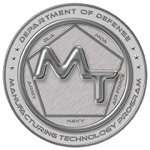 Manufacturing Readiness Level Tool
Docent: Manufacturing Readiness Assessment Tool
Docent is a federally-funded tool designed and built with support from AFRL, DMS&T, MxD and Ekta Flow. Docent is a software application designed to guide users through the questions required for a Manufacturing Readiness Assessment (MRA) based on a target Manufacturing Readiness Level (MRL). Docent records the user's response to each question and creates reports that indicate when an MRL is met or not for each question thread. Additionally, Docent allows users to attach files on per-question basis (to provide evidence relevant to a specific response), assign team members to remediate requirements that could not be met, and extend above or below the target MRL to find the user's ceiling or floor level for a particular thread.

Download the tool and user documentation at mfgdocent.com

Direct Download links:

Interactive User Guide:

For any questions related to Docent, please contact elizabeth.loiacono@us.af.mil.
This is a collaborative website of Industry, Academia and DoD,
providing the updated references and tools which comprise the MRL Body of Knowledge.